POLL CENTER !


Poll allows you to add interactivity to your site by adding a question of your choice to your site or homepage. By adding a Web Poll, you can start tracking the opinions and knowledge of your visitors today!

POLL CENTER: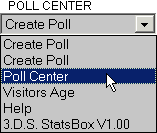 You have to click on the "Poll Center" option in the "POLL CENTER" drop down menu box.Poll center page display all the polls defined.


For each poll, you can...






Edit poll: Change the poll informations.
Get Code: Get the HTML code of the Poll.
Results: View the poll result.
Reset Poll: Reset the votes.
Delete Poll: Delete the poll.


Rotating code:

With this code you can rotate several polls at the same place.

Example: You created 10 polls...

Paste and copy the rotating code on your page, each poll will be displayed on your page once on 10.
Note: To include a Poll in the rotating list, Poll state option of the poll must be enabled