Poll Result!


Poll allows you to add interactivity to your site by adding a question of your choice to your site or homepage. By adding a Web Poll, you can start tracking the opinions and knowledge of your visitors today!



VIEW THE POLL RESULT: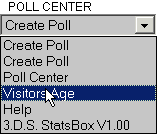 You can see the results of the votes in clicking on the Poll title in the "POLL CENTER" drop down menu.