PAGES AND TRACKERS CENTER
5) Page Configuration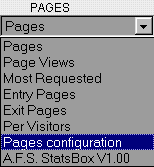 3dstats provides you 64000 differents HTML codes to track your entire web site. Each tracking code can be used to track one page or a group of pages. For example, if you have a Web site using several pages for discussion forums, you could use only one tracking code for all these pages


How to Create, get the real tracking code, delete or edit the trackers.


Edit your account and push the 'Pages Trackers Center' button.
A new page is displayed with the listing of the trackers used.


How to Create a new tracker.

1) Push the 'Create Tracker' button.



2) A new page is displayed. Enter the name and the url of the page that you want track.





3) Push the 'Save tracker' button.


How to get a real tracking code.



1) Push the 'Get Real Code' button. (if you push the 'Email code' button, you will receive the HTML code by Email.
2) A new page is displayed with the code.
3) Select the tracking code in box by clicking on "HIGHTLIGHT ALL"
4) On your keyboard, press Ctrl-C to copy the selected text.
5) In your favorite text editor, open the web site page you want to track.
6) On your keyboard, press Ctrl-V to paste the copied code onto your web page before the /BODY tag.
7) Save your web page.
8) Upload your page on your web server.


How to change the Page Name and the url.

1) Push the 'Edit' button.


How to delete a tracker

1) Push the 'Delete button'.










Next Page